ROOTS® BioPak® Plus is a premium dry, soluble 3-in-one fertilizer, microbial nutrient, and microbial
inoculant treatment for ornamentals, trees, or turf maintenance to improve vigor of plants growing in
stressed conditions. Also included are humic acids, which aid in mineral nutrient uptake.
DIRECTIONS FOR USE:
For small trees and shrubs, mix .5 cup (.5 lb) in 5 gallons of water and evenly drench halfway between the dripline and trunk.
For large trees and shrubs, mix 1.5 cups (1.5lbs) in 15 gallons of water and drench around tree between dripline and trunk. (Divide canopy into thirds and do 5 gallons in each third)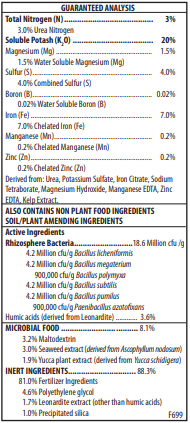 Disclaimer: We cannot mix or split shipments. We CAN add bagged material to a bulk delivery but cannot deliver two bulk materials on the same truck